Our Doctors
Peter Redko, DPM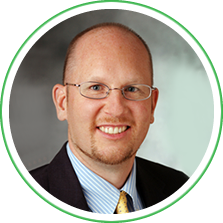 Peter Redko, DPM
Dr. Redko received his doctorate in podiatric medicine at Temple University School of Podiatric Medicine in Philadelphia. After graduating in 2000, he completed a residency in New York City. Dr. Redko also served as the chief of foot and ankle surgery at Beverly Hills Surgical Institute in Los Angeles.
Dr. Redko is board certified in foot surgery by the American Board of Foot and Ankle Surgery, and has hospital affiliations with Sonoma Valley Hospital, Petaluma Valley Hospital, and Santa Rosa Memorial Hospital. He treats various conditions including ankle pain, bunions, flat feet, hammertoe, warts, and nail fungus to name a few, and has a specific interest in both sports medicine and diabetic care. He has been in practice since 2004.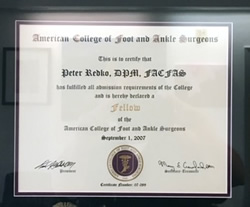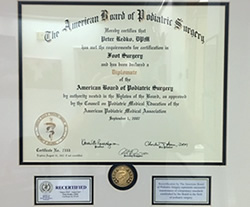 Rochelle Bomar, DPM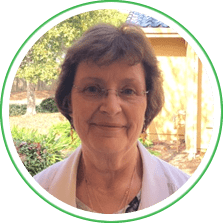 Rochelle Bomar, DPM
Dr. Bomar has been part of the Petaluma community since 1990 when she moved here with her family. All four of her sons participated in Casa Grande High School athletic programs through which Dr. Bomar and her husband became acquainted with much of Petaluma's diverse population and culture.
Dr. Bomar's alma mater is The University of Nevada, Reno, where she received her Bachelor of Science degree in biological sciences. Her medical degree comes from the California College of Podiatric Medicine as does her master's in medical education. She has taught classes at the California College of Podiatric Medicine and University of Phoenix and happily goes to Petaluma high schools to talk about Podiatry and medical school.
Dr. Bomar is the current Medical Director for the Ethics Committee at Petaluma Valley Hospital, a role she has enjoyed for almost 20 years. She joined North Bay Foot & Ankle Center in 2016 after a fire forced the closure of her successful practice. With her bright smile and bubbly personality, she currently provides Conservative Care to the Patients of North Bay Foot & Ankle Center. Together with Dr. Redko, they make North Bay Foot & Ankle a full-service Podiatry practice that not only treats any Podiatric problems, but they enjoy being of service to the local community.